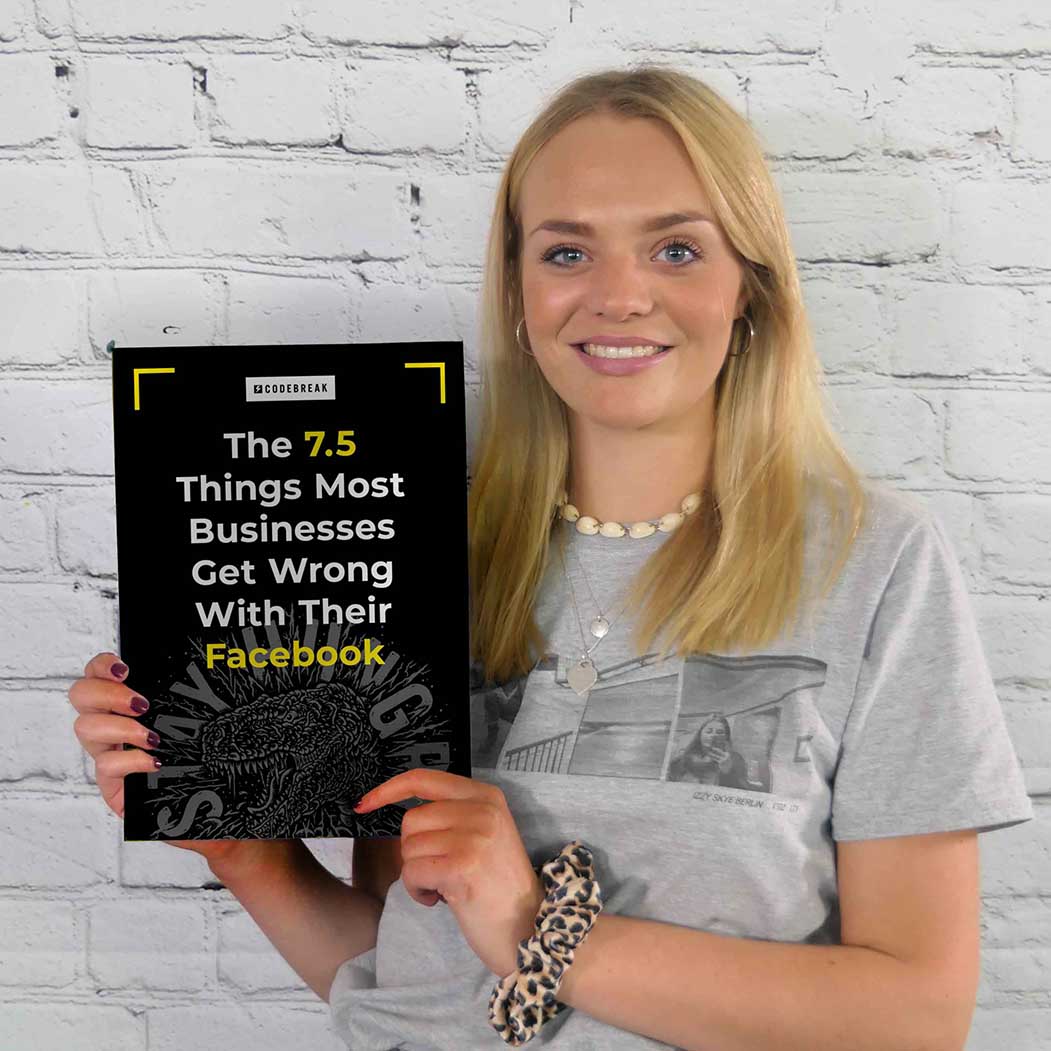 Your Facebook Guide Special Offer
The 7.5 Things Most Businesses Get Wrong With Their Facebook
This is Codebreak's definitive guide on where most businesses go wrong with their Facebook and how you can avoid the same pitfalls.
It's your invaluable 13,500-word guide to saving you time and making you money!
Benefit from Andy and Joel's combined social media experience in one comprehensive but easy-to-read printed guide. Yes, PRINTED! So you can sit down and properly take it all in.
The inside scoop on quick wins and strategies that we have actioned for real small to medium-sized businesses in the real world… for less than a fiver?!
Delivery is included, to be clear (UK only). Bargain!
Invest in The 7.5 Things Most Businesses Get Wrong With Their Facebook TODAY!
Not getting enough enquiries and sales through Facebook?
Read on…
Have you ever sat there "doing your Facebook" and wondered if you're wasting your time?
Or maybe it's a member of staff you're paying for who's doing the work.
Posts are going out but you can't actually see how much business it's driving to your door.
You may not know whose advice to listen to, because everyone seems to be an expert these days. Even some marketing agencies are spouting nothing but jargon and talk of "likes". Who gives a sh*t about likes? You want leads and sales, not likes, right?
Do you know what "likes" stands for?
Lazy Icons Keeping Everyone Stuck.
The good news is, us Codebreakers know what we're doing. We don't just talk, we do. We get results. Here in the real world, for real businesses just like yours.
And we've produced a detailed guide for you called The 7.5 Things Most Businesses Get Wrong With Their Facebook. It's a high quality printed document of over 13,000 words, which gets to the nitty-gritty of the Facebook truth.
Beacuse whether you like Facebook or not, whether you think your audience is on Facebook or not, the platform WILL generate enquiries and sales for you… if you know what you're doing.
Don't listen to Terry in Telford, who knocks Facebook because they're a big corporation that has the cheek to do what they want with the free service they provide. Follow the facts. Any business from any sector can reach the people they want through Facebook and the numerous other websites that Facebook partners with.
Facebook's numbers are still MASSIVE.
Their ad revenues are still growing.
And, if you want more enquiries and sales, you NEED to be a part of it.
Co-founders of Codebreak, Andy Rao and Joel Stone, were there at the beginning of Facebook, so you're in safe hands. It's not a bandwagon they've recently jumped on. They watched, listened, learned and implemented. Some things they learned the hard way, they're not afraid to admit. But we'd like to save you this pain.
And it is painful. Who wants to waste time and/or money? Lots of LOLs off your friends but no enquiries. Lots of Facebook Ad reach but no sales. Ouch.
Just £4.99 to skyrocket your Facebook results. Get a head start whilst your competitors scrabble around trying to learn everything for free.