Hello. What's going on? Another day of wonder and opportunity. 
And another blog for six-figure business owners wanting more growth and less bullsh*t.
At Christmas, Joel was kind enough to buy me and Emma a three-course lunch voucher at one of the UK's top restaurants.
I felt bad because I only got him a bottle of plonk. Oh well.
I'll make it up to him this Christmas.
Anyway, at the weekend I thought it was about time I actually booked the table.
So I went to the voucher website, entered my details and was given the restaurant number.
Book by phoning. OK, not a problem. I called and got an automated message straightaway.
It said the first port of call was to book online.
Right. Back onto the internet.
The web address the message gave me listed all the venues within the restaurant group.
I searched for the one Joel had got me… only to find it said I needed to phone to book…!
All a first world problem, I appreciate.
But still bl00dy annoying.
So I re-dialled the number.
Listened to the same automated message and held for a real live person.
The 'hold' music stopped and I heard a click. "Yes, there is life!" But, no, the hold music resumed.
About two minutes later, the music stopped again and I heard another click.
Then the line went dead. Maggot farmers.
As of yet, I still haven't booked the table. I will get around to it, of course.
I don't want Joel shouting at me.
But if I wasn't "cashing in" a voucher, would I bother? Probably not.
This is a mega famous restaurant owned by a mega famous chef.
He can afford to lose money. Most of us mere mortals cannot.
Yet, more often than not, we're leaving money on the table.
Every month, consider checking ALL the links in your marketing chain.
Especially the ones towards the end. People are lazy. People are busy. Some people aren't blessed upstairs.
You've gotta make it EASY.
If you'd value having me or Joel check your marketing chain for you, bag a 1-2-1 strategy session.
We'd cover that and a whole lot more.
But have a free Discovery Call first, to make sure there's a good fit.
Until next time, stay hungry. (No pun intended.)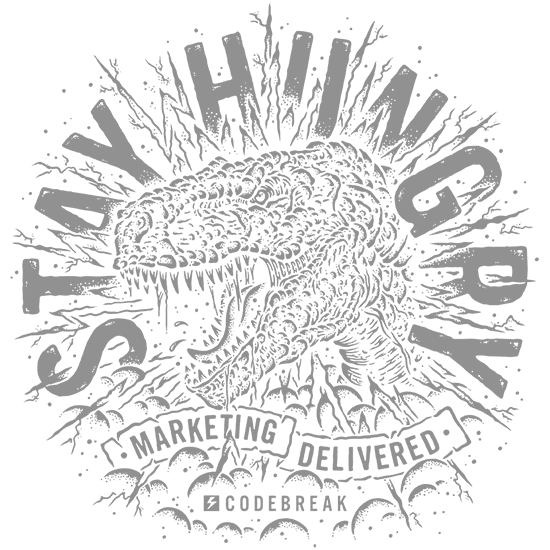 Book your free Discovery Call
This is a call where you tell us about your business goals and we see what Codebreak can do to help.
We'll discuss what's been working well for you when it comes to getting more customers, and what hasn't cut the mustard. How happy you are with your current marketing, who your ideal customer is…. An informal but productive chat about growing, protecting and scaling your business.
It is genuinely a discovery call rather than a mislabelled sales pitch.
If there's a match between what you want and what Codebreak can provide, we'll give you some options.
To help people and have fun