What's the Weak Link in Your Customer Journey?
Hello. What's going on? Another day of wonder and opportunity. 
At the weekend, I had the joys once more of taking my youngest daughter clothes shopping.
There was a top she wanted from a particular clothes shop.
The whole town centre was heaving. Packed. I must have gone through ten hand sanitisers.
And how many people were manning the tills in this shop?
One.
Yup, one poor lady on her own.
So of course there was a massive queue.
There was also a sh*t-load of people who looked at the queue, thought, "B*gger this for a game of soldiers," and went and shopped elsewhere.
Most businesses are guilty of this.
LEAVING MONEY ON THE TABLE.
They're so focused on getting new customers, they forget about the people who are already in their community.
My question to you this fine day is: What barriers to sale are there in your business?
If someone is waving money in your direction, is there something that'll stop you from getting your hands on it?
If you're a shop, that could be not enough people manning your tills.
Poor customer service. Not getting back to enquiries promptly.
A confusing website. No choice of payment options. No obvious call to action. No special offers. No social proof…
…the list goes on.
All it takes is one weak link in the chain to make someone think twice… and they're gone.
You've got to make it EASY.
Why not write down the steps of your customers' journey?
Take a cold, hard look at where they could drop off.
As ever, to find out more about practical marketing to move you forward, book your Discovery Call today.
Until next time, stay hungry.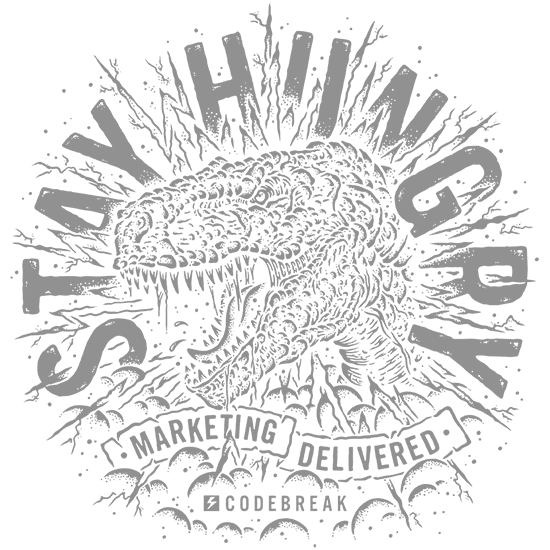 Book your free Discovery Call
This is a call where you tell us about your business goals and we see what Codebreak can do to help.
We'll discuss what's been working well for you when it comes to getting more customers, and what hasn't cut the mustard. How happy you are with your current marketing, who your ideal customer is…. An informal but productive chat about growing, protecting and scaling your business.
It is genuinely a discovery call rather than a mislabelled sales pitch.
If there's a match between what you want and what Codebreak can provide, we'll give you some options.
To help people and have fun