Why Your Call To Action Shouldn't Be To Phone
Hey, gang. What's going on? It's another day of wonder and opportunity.
And another vid for six-figure business owners wanting to grow through better marketing.
Me, Emma and the kids watched E.T. again the other day.
Apparently, that's the only film of his where Steven Spielberg wouldn't change a thing.
It is indeed an amazing film. Plus, it's a bonus when a film made in the 80s doesn't come with a tonne of warnings about being "of its time".
You'll know the catchphrase is, "E.T. phone home."
Of course, nowadays E.T. wouldn't be phoning home.
He'd be messaging home. Especially with those long, thin fingers of his – he'd be a typing demon.
You may have seen my rant recently about having to phone to book a restaurant rather than book online.
No one like phoning anymore, apart from old school salespeople.
Phone calls can be great once a relationship has been established.
But to START a relationship off? Nah.
If your over-riding call-to-action is to phone, you'll be leaving money on the table.
You'll know this is a big focus of mine at the moment when it comes to helping six-figure business owners; what are the holes in your bucket that are stopping people who are already in your community from giving you money?
Again, most people won't want the first step in a business relationship to be a phone call.
Whether it takes you longer or not to have a convo with a prospect over messaging than a single phone call is irrelevant.
You've got to suck that up.
Even email has one foot in the grave as the first step.
People want WhatsApp, SMS and DM. With Codebreak, a new client can't come onboard without a free Discovery Call.
But the first approach we encourage is for people to WhatsApp Martha or Evie.
Say hello and ask a couple of questions without any pressure.
Just in case Martha and Evie are more of those God-awful high-pressure salespeople with targets to hit…. Let's remove that barrier to entry.
So… why not flick through your most recent marketing?
How much of is solely telling prospects to phone?
If you'd like to explore getting me and the team in your corner, get in touch via codebreak.co.uk Which, yes, includes WhatsApp.
Until next time, stay hungry.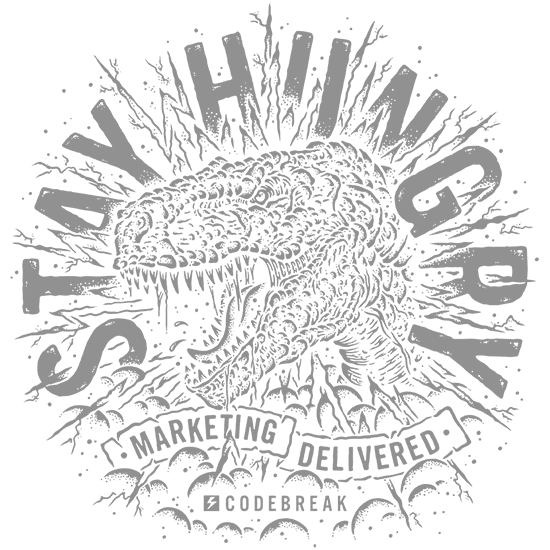 Book your free Discovery Call
This is a call where you tell us about your business goals and we see what Codebreak can do to help.
We'll discuss what's been working well for you when it comes to getting more customers, and what hasn't cut the mustard. How happy you are with your current marketing, who your ideal customer is…. An informal but productive chat about growing, protecting and scaling your business.
It is genuinely a discovery call rather than a mislabelled sales pitch.
If there's a match between what you want and what Codebreak can provide, we'll give you some options.
To help people and have fun