Life 101 – Produce More Than You Consume
Hey, gang. Welcome to another quick video about getting more customers through better marketing and better thinking.
One of my favourite autobiographies is David Niven's Bring On The Empty Horses.
From the so-called golden age of Hollywood.
There's a chapter all about the time he lived with Errol Flynn in the 1930s.
He said that you always knew where you stood with Errol because he always let you down.
He was great fun to be around in carefree days but a taker.
Someone who'd never think of helping others.
And this is rife in business.
I'd say it's the no.1 mistake I see in marketing.
All people do is pitch. They never offer to help or give away any knowledge.
We're all here to make money. But more money will move towards you when you give away value first.
Serving is selling.
I mentioned a while back what Joel and I give away for free. Emails, trainings, blogs, factsheets, guidebooks, in-person workshops, podcasts….
Insights that most marketers charge for.
Yes, there'll be a sell but we lead with value.
We give rather than take. You know business owners who just pitch all the time. Buy my sh*t! Buy my sh*t! That's all they ever say, then wonder why their phone doesn't ring.
Something I say a lot to my daughters can be applied to business. To life, really:
Produce more than you consume.
Upgrading your thinking plays a big part in how we coach clients to get better results from their marketing.
Want to know more? Book your Discovery Call today.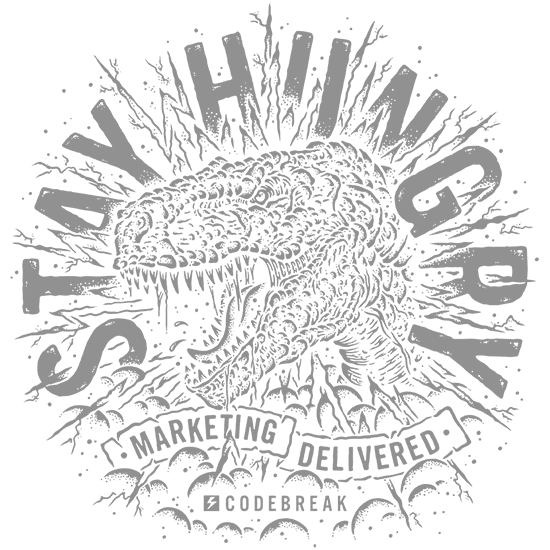 Book your free Discovery Call
This is a call where you tell us about your business goals and we see what Codebreak can do to help.
We'll discuss what's been working well for you when it comes to getting more customers, and what hasn't cut the mustard. How happy you are with your current marketing, who your ideal customer is…. An informal but productive chat about growing, protecting and scaling your business.
It is genuinely a discovery call rather than a mislabelled sales pitch.
If there's a match between what you want and what Codebreak can provide, we'll give you some options.
To help people and have fun