Where Are the Sales & Marketing Holes in Your Business?
Hello and welcome to another quick vid about getting more customers through better marketing and better thinking. 
Emma and I went to the cinema yesterday to see Mission Impossible.
Perhaps it should have been called The Mysterious Case of Benjamin Button, as Tom Cruise is definitely getting younger.
Anyhoo, it was awesome.
We paid for our ticket in advance online. But wanted to get some popcorn, so joined the queue.
It was a fair-sized queue as only one person was serving.
A couple of other staff members were idling about but not behind the tills, annoyingly.
Now, I'm not the world's most patient man but I always turn up to the cinema early. I want to watch the ads and trailers, you see, the whole cinema experience. That's why I left ITV to go work at Pearl & Dean Cinema Advertising – cinema was my first love.
So we had ten minutes to spare, which just about did it.
A number of people who joined the queue after me, however, did not have the time or patience. They stropped off without any popcorn, drinks, hot dogs… meaning:
less revenue for the cinema!
My point is – if you're spending money on your marketing, for f*ck's sake make sure the final link in the chain is working.
Who's answering your phone? Who answers when that person's in the loo? People won't leave a voicemail.
Who's answering your emails? Do they reply promptly? Check the sp*m folder regularly?
Who's manning the till? Is there enough of them?
Having a marketing process is great. That's what Codebreak helps businesses with. But we'll always ask what your sales process is, because we may need to work with you on that too.
You'll be leaving money on the table if you have one without the other.
Interestingly, when we came out of the film, the queue was even longer. They now had two staff on the tills but it wasn't enough. People were not HP; not only does that mean less money, it means less chance of them coming back. They might try the other cinema a few blocks away.
Want to know more about marketing and sales? Book your free Discovery Call today.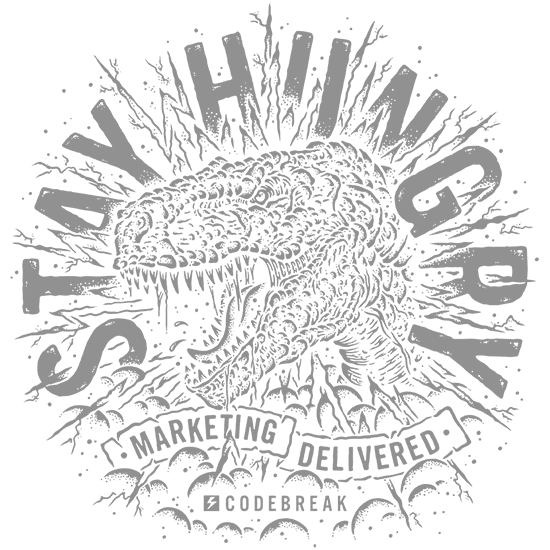 Book your free Discovery Call
This is a call where you tell us about your business goals and we see what Codebreak can do to help.
We'll discuss what's been working well for you when it comes to getting more customers, and what hasn't cut the mustard. How happy you are with your current marketing, who your ideal customer is…. An informal but productive chat about growing, protecting and scaling your business.
It is genuinely a discovery call rather than a mislabelled sales pitch.
If there's a match between what you want and what Codebreak can provide, we'll give you some options.
To help people and have fun